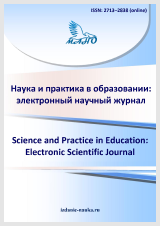 «Science and Practice in Education: Electronic Scientific Journal»
is a peer-reviewed scientific publication. Published since 2020, published 5 times a year in electronic form.
The purpose of the journal is to highlight the results of research activities in the field of pedagogical science, disseminate ideas of theoretical or practical significance, as well as aimed at obtaining new knowledge in promising areas of education and science.
The Journal publishes articles on specialties in the field of science 5.8. Pedagogy (5.8.1.; 5.8.2.; 5.8.3.; 5.8.7.)
Target audience: domestic and foreign scientists, doctors and candidates of sciences, graduate students, adjuncts and applicants for scientific degrees, undergraduates, teachers.
Show more
Journal Subject Headings:
General еducation issues
Vocational еducation
Socio-psychological research
Management in education
Education, economics, society
Education and culture
Magazine release schedule (5 times a year)
No. 1 - 31.01.
No. 2 - 31.03.
No. 3 - 31.05.
No. 4 - 30.09.
No. 5 - 30.11.

All articles are assigned a DOI.
Registration Information: The journal is registered with the Federal Service for Supervision of Communications, Information Technology, and Mass Media. Certificate on registration of mass media EL No. FS 77 - 78785 of 20.07.2020.
The magazine is registered in the National Agency ISSN of the Russian Federation. The publication has been assigned an international number ISSN 2713-2838 (online).
The journal is officially registered with the Informregister Electronic Publications Depository as an electronic scientific publication.
Information product mark 16+
«Science and Practice in Education: An Electronic Scientific Journal» - Open Access Magazine. Creative Commons Attribution 4.0 International (CC BY) license type. (License "Specifying Authorship"). The magazine is publicly available on the Internet information and telecommunications network on the website http://izdanie-nauka.ru/
Indexation: The Russian Scientific Citation Index (RSCI), Elibrary, Cyberleninka, Google Scholar, Semantic Scholar, Crossref. "Lan" Publishers electronic catalogue, Global F5
Founder: Anton V. Gam
Publisher: Multidisciplinary Academy of Continuing Education (ANPEO «МАCE»)
Editorial office address: 1 bld. 4 Frunze Str., Off. 407, Omsk 644043, Russia
Phone number: +7 (3812) 79-03-19
Email: redactor@mano.pro
Roll up
Journal Subject Headings

General еducation

Socio-psychological research                                 

Management in education

Vocational еducation

Education and culture

Education, economics, society
Magazine release schedule
5 times a year
Release № 1
Journal release date: January 31
Release № 2
Journal release date: March 31
Release № 3
Journal release date: May 31
Release № 4
Journal release date: September 30
Release № 5
Journal release date: November 30